Infinity Ward, the developers behind Call of Duty: Modern Warfare 2, have released an update to the game on PC and Xbox due to the game constantly crashing and other bugs.
Call of Duty: Modern Warfare 2 was finally released on Friday, October 28th after a campaign launch a week earlier.
Although we had a beta, players are getting used to the maps and guns after changes based on beta feedback. As expected with a new game, especially a new Call of Duty title, Modern Warfare 2 has its share of bugs.
Two of the main issues players have reported are the vault edition issue of Modern Warfare 2 and a 'scan and fix' issue that has been in the game on PC.
Unfortunately, it looks like Modern Warfare 2 continues to crash for PC and Xbox players. One of the problems seems to be in partying with the players. Infinity Ward is aware of the issue and it looks like it could be fixed soon.
Modern Warfare 2 Party Crashing Problem
Yesterday, Infinity Ward released a tweet stating that they are aware of Modern Warfare 2 crashing issues when partying with friends. They also mentioned that they are investigating the matter.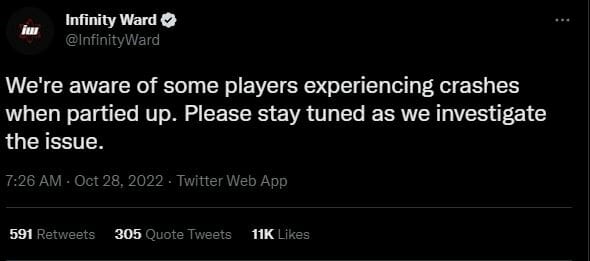 A few hours ago, Infinity Ward thanked players for their patience and stated that they will be rolling out mitigations for party-related crashes this morning (PDT).
We'll update when the update goes live, but if you're having Modern Warfare 2 crash issues, continue below.
Modern Warfare 2 Crashing on PC
PC gamers are reporting that the game keeps crashing. These crash issues have been around since the launch of the campaign. Here are some methods to try to prevent Modern Warfare 2 from crashing on PC.
Restart your computer
It may seem obvious, but some gamers have reported that after restarting their PC, they experienced fewer or no crashes on their PC. However, if the problem still persists, continue reading.
Update Windows and device drivers
It is always recommended to keep Windows and device drivers up to date. Newer games may experience issues with outdated device drivers, especially Nvidia and AMD graphics cards.
Nvidia released a Game Ready Driver called 216.29 for MW. For AMD, the latest driver version is 22.9.1 at the time of writing. Make sure you have updated all device drivers.
Disable the On-Demand Texture Streaming feature
If the above methods don't work, go to CoD: MW2's options menu and disable the on-demand texture streaming feature which can be found under the "quality" tab.
Scan and repair files
For Battle.net users, to scan and repair files, follow these steps:
Find and click the Modern Warfare 2 logo.
To the right of the blue play button is the "play" button. Click on the icon.
Click "scan and fix" and then continue by clicking "start scan".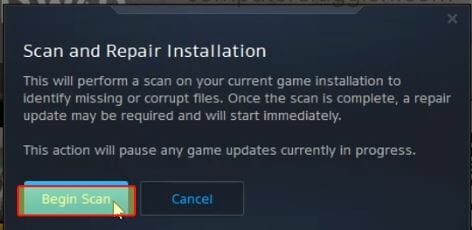 Steam:
Open Steam and go to the library tab.
Find MW2 and right click on it.
Select properties.
Select the local files tab option and click on the check integrity of game files option.
Fix MW2 crashing on PS4, PS5, Xbox One, Series X|S consoles
To fix Modern Warfare 2 constantly crashing on consoles, try the methods below.
PlayStation 4 and 5
Check for system updates. To do this, follow the steps below:
Navigate to the settings menu.
Select system software update and make sure to follow the on-screen instructions if an update is available.
Xbox
For Xbox, go to the home page and open the panel menu. Go to settings and select "all settings". Select system and then select updates. If an update is available for your Xbox console, you'll be prompted to download it.
Other issues that can fix Modern Warfare 2 crashing on PS4 and PS5 are rebuilding the database or reinstalling the game which should fix the problem if you're on Xbox.
If none of the above methods work, it might be something you can't fix yourself. With Infinity Ward releasing an update to fix Modern Warfare 2's aspect issue, we should soon see all of the other crashes fixed.