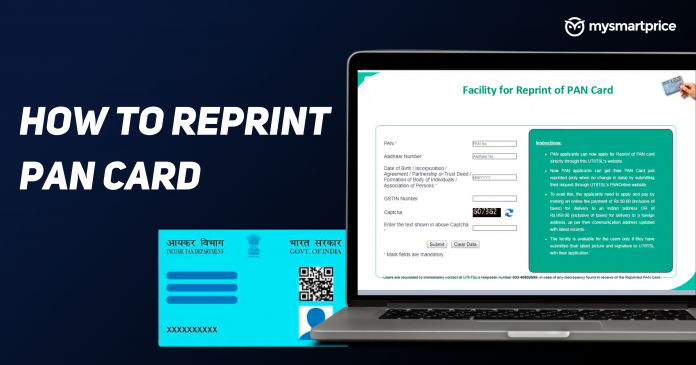 PAN Card or Permanent Account Number is one of the most important documents when it comes to finances in India. Income Tax Department of India provides PAN number. PAN is a ten character alphanumeric unique identifier. PAN is required for filing income tax returns and in some cases, it can come in handy as an ID card, but PAN card is not considered as proof of Indian citizenship as it is issued to some foreign nationals.
There are a few ways to apply and get a PAN card. One of the easiest ways is to visit any nearby PAN center and provide all the required details and get the card delivered to your home. Another way is to apply for PAN online using the official site and the third way is to download the form from the website and send it by post and get the PAN.
Once you get a PAN card, your PAN will be linked to all necessary accounts and documents. There is no way to change the number, but you can change your name or DoB if there is an error. Since the PAN card is very important, it is very important to keep the document up to date and error-free, as wrong information in the document can land you in trouble. Similarly, it is also important to keep the original PAN card safe with you and use it whenever needed. However, sometimes you may lose your PAN card while traveling or around your home or someone may have stolen your wallet. Whatever the reason, the good news is that you can request to reprint and reissue the PAN card.
In this guide, we look at the princess to reprint a PAN card in India and everything you need to know about the entire process.

What is Duplicate PAN Card?
The fake PAN card is same as the original PAN card with the same name, DoB and number 一 which were in the original card which you lost recently. A duplicate or reprinted PAN card is identical to the original card and can be used in the same manner as the original. You cannot edit your name or date of birth when you apply for duplicate PAN card.
Also Read: How To Change Name In PAN Card 2022: Online & Offline Process, Fees, Required Documents
How to Re-Print Lost PAN Card Online
visit

NSDL Online Service Website Here

Under "Apply Online", select "Changes in Existing PAN or Correction/Reprint of PAN Card" as Application Type

Next, select your category (Individual/Partner, Company, Trust, etc.)

Select your title and enter your Last Name, DoB, Email ID and Mobile Number 一 Mandatory

Select your citizenship

Enter your PAN (ten-character)

Enter captcha
Recheck the details you have entered and click Submit
Once you click on the submit button, a token number will be generated and sent to your email-id. Note the token number for future reference.

A new screen will appear to submit your PAN application. You will get three options 一Choose the first one ("Submit Digitally through e-KYC & e-Sign (Paperless)")

"Is a physical PAN card required?" Under, select Yes to get a physical copy of your PAN card

Next, fill all the mandatory details on the page

Click Next

Here, fill in your address details and click "Next".

On the last page, you have to attach the documents as all the details are automatically taken from your Aadhaar card.
Enter your name and location and click "Submit".

Now, you will be redirected to the payment page, complete the payment

Once payment is made a receipt will be generated with a 15-digit number to track the status of your PAN card
You can track your application status with the 15-digit acknowledgment number.
How to Reprint Fake PAN Card Using Aadhaar Card
visit

This online service is NSDL webpage

Enter your PAN number, Aadhaar card and DoB

Enter GSTIN Number (Optional)

Read and tick the declaration to proceed further

Enter the captcha and click submit

On the new page, your PAN details will be displayed

Select options to receive OTP on email id or mobile number

Tick ​​the checkbox and click "Generate OTP".

Enter the OTP and click on the 'Validate' button

After entering the OTP, you will be redirected to the payment page

You have to pay Rs 50 and submit your request

Once your payment is successful, your PAN reprint application will be submitted and you will be able to download the receipt.
How to re-print a fake PAN card offline
If you want to skip the online procedure, you can request for a duplicate PAN card using the offline method. All you need to do is download the form, fill it and submit it.
While filling this form, the applicant should not check any of the checkboxes on the left side of the form. However, the check box for item no. 7 This address will be selected as the default address for communication as this address is updated in the records.
Open the browser

Request for new PAN form

Download the form

Enter the PAN card number of your existing card

Fill all the mandatory details in the block letters

Submit the form at the nearest NSDL collection point
You will also need to attach 2 passport size photographs to the application. YYou can find the nearest NSDL collection center by visiting This website. If you don't want to go to the NSDL collection center, you can post the form to the following address:
Income Tax PAN Services Unit (Managed by NSDL E-Governance Infrastructure Limited)
5th Floor, Mantri Sterling, Plot No. 341, Survey no. 997/8, Model Colony, Near Deep Bungalow Chowk, Pune – 411 016
Eligibility for re-printing of duplicate PAN card
Now that you know how to request a reprint/copy, you can re-print a duplicate PAN card copy.
You can apply for reprint of your PAN card only when there is no change in PAN information

You can request reprinting of your PAN card when it is lost or stolen

When you have misplaced your original PAN and are unable to find it

When your PAN card is damaged and the number, name or date of birth is not clearly visible

Anyone who has a valid PAN card can apply for reprint (to apply for duplicate, you must have PAN first)
If you need to change your name in PAN card, please refer below guide.
Also Read: Aadhaar Update: How to Update Your Aadhaar Card Online, Required Documents and More
Documents required for re-printing duplicate PAN card
You don't need to attach any documents as all the details are automatically fetched. However, to fill the forms, you need your PAN card number and Aadhaar number. There is no need to submit any application form along with supporting documents to process the PAN card reprint request.
How to Surrender Fake PAN Card
If you get a new reprinted PAN card and you get back the old/lost PAN card, you should write a letter to the above mentioned Pune address and if your PAN card is lost due to theft, you should file an FIR at the nearest police station. Copy of FIR should be sent along with documents of duplicate PAN card.
FAQs:
How much does a fake PAN card cost?
Here's how much you need to spend as facility payment to get a copy of your PAN card.
50 if you reprint a duplicate PAN card using the Aadhaar card method

Rs 101 (inclusive of taxes) for delivery to an Indian address with e-sign paperless application/e-sign scanned application

Rs 107 (inclusive of taxes) for delivery to an Indian address with physical mode of application.

1,011 for foreign address with e-sign based application

1,017 to foreign address with physical mode application
How long does it take to get a fake PAN card?
Once you submit your application online/offline you will receive your PAN card within 2-3 weeks in India.
How can I check the status of my PAN?
You can visit the status tracking website here and enter the acknowledgment number and check the latest status of your website.
What happens if I lose my PAN card?
If your PAN card is stolen it can be misused. If you lose your PAN card due to theft, you should register an FIR at the nearest police station.
Can a lost PAN card be misused?
Yes, many frauds can be done using your PAN card details like taking loans from banks or apps, which only require PAN verification. So, in the worst case of using your PAN, someone can take a loan against you and that can affect your CIBIL score. However, if there is no OTP based verification, these frauds will not be possible.
Also Read: Aadhaar: How to Download e-Aadhaar Card Online, PDF File What is Password
Thanks for reading till the end of this article. For more such informative and exclusive technical content, like our Facebook page