Andrea Meza is the definition of multi-hyphenate. In 2020, the activist and singer not only became the third Mexican woman to win the coveted Miss Universe title, but the rabble-rouser made history as the first-ever vegetarian to win the crown.
But for Meza—whose seeds of feminism were planted as a child seeking justice growing up in Chihuahua, Mexico—being a beauty queen is not a dream; you have your mind set on being a doctor or an engineer. It wasn't until his 20s that Meza recognized the great power he would have to speak out for what was important if he was given access to one of the biggest platforms in the world – the World, really – to in which to build for the initiative. social change.
If that doesn't challenge any pre-held beliefs about what a pageant winner looks like, try this on for size: Meza thinks mainstream beauty standards are ridiculous, pointing to the fact that it's how we're presented for It's our body and the world we share, not how we appear physically, that defines true, lasting beauty. From animal rights to gender equality and women's empowerment, the causes Meza has dedicated her life to are noble and important. And as long as you're making your millions of viewers, as you say, "uncomfortable" (a job that's not easy), you know you're winning—and success brings you a much bigger reward. than any sash can provide. VegNews' Jasmin Singer caught up with Miss Universe to discuss tacos, discipline, and self-love.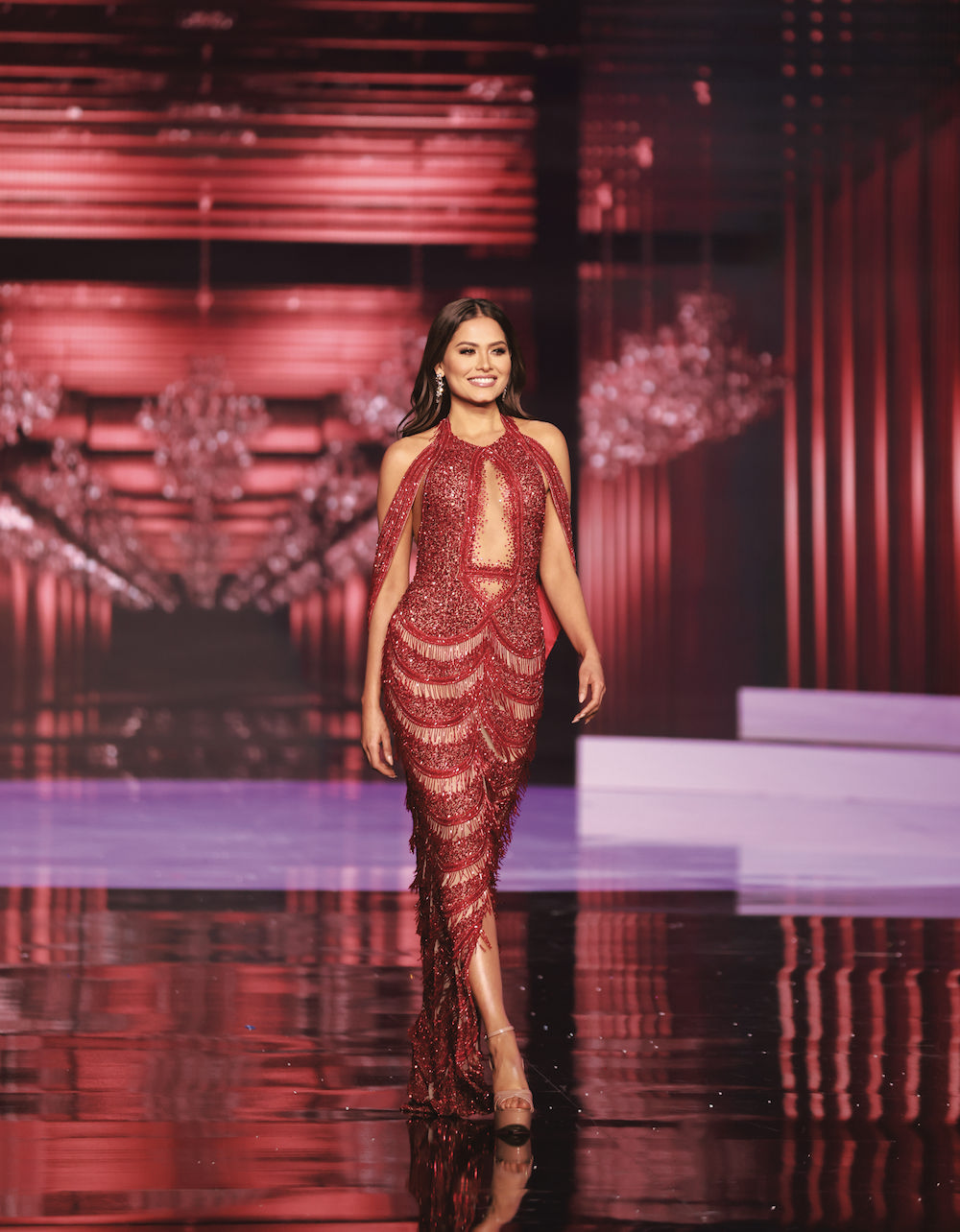 Tracy Nguyen / Miss Universe Organization
VEGNEWS: When did your vegan journey begin?
Andrea Meza: Two years ago, my life brought me to a point where I couldn't stand to eat meat anymore. I know nothing about veganism, but one of my closest friends is vegan, so I learned a little from him. I feel like when you are not ready to make a change in your life, you just refuse to accept the truth. I'm cooking chicken, I can't eat it anymore. So I went vegan for about two months, and then after watching the documentary Game changers and reading a little about veganism, I was like, "Okay, I'm ready to make a change."
VN: How do you plan on using your platform to spread the word about veganism?
AM: Something I've been saying as Miss Universe is, "I want to make people uncomfortable." If you are talking about what is happening to animals or if you are talking about powerful women, as long as I am making people uncomfortable, I will continue to do it. I hope that with this platform, I can make a difference.
VN: Why is fighting gender-based violence important to you?
AM: I come from a country where there has been violence against women, even within my own state. I'm from the state of Chihuahua—and, unfortunately, it's notorious for the violence women suffer. I grew up knowing that women were disappearing. I grew up with a fear of going outside by myself. My sister became a woman before I did, and she turned me on. He said, "This tradition has been carried, just because it is our normal does not mean it is right." About five years ago, I went to a concert, and I thought, there are people who are listening to me, and I can use this platform to talk about important issues—issues that are happening. in my country. And not only in Mexico, but all around the world. So that's what I've been doing.
"Be comfortable with who you are and how you look, and that will take you further than comparing yourself to others."
– Andrea Meza
VN: How do you deal with retirement?
AM: Sometimes it's hard. The world will not always be on your side. There will always be people who will be against you, people who will not like you. But I remind myself that I am doing the right thing and that I can at least change one heart in the room.
VN: Why do you believe it is important for society to move away from rigid beauty standards?
AM: Because they are vulnerable. They are telling society and little girls that they have to be a certain way to be beautiful or to fit in. When I was young, I would look at these top models, and obviously, I loved them and all the former Miss Universe winners. They support me. But at the same time, when I started this, I had a lot of trouble accepting myself the way I was. I want to fit into a size. I want to have hair just like the people on TV or in magazines. No matter what I did, it was not enough. It is very sad to live life feeling like you are not enough. In the beginning, I was comparing myself to everyone. Now that I'm here, I want to let girls know that they shouldn't listen to outside comments, and they shouldn't care how other girls look on social media. Be happy with who you are and how you look, and that will take you further than comparing yourself to others.
VN: What was your childhood like?
AM: I am a dreamer. I dream about being a doctor. I want to be a pediatrician, I want to be an architect, I want to be an artist. When I grew up, I realized that I was good at math. I started dreaming about being an engineer—I never dreamed about being a beauty queen. At school, when it was the spring festival, they would have a princess and a king. I'll see them on stage, and I'll be like, "Wow, they're so beautiful." Then, in 2010 when Ximena Navarrete won Miss Universe, it was the first time that being a beauty queen crossed my mind.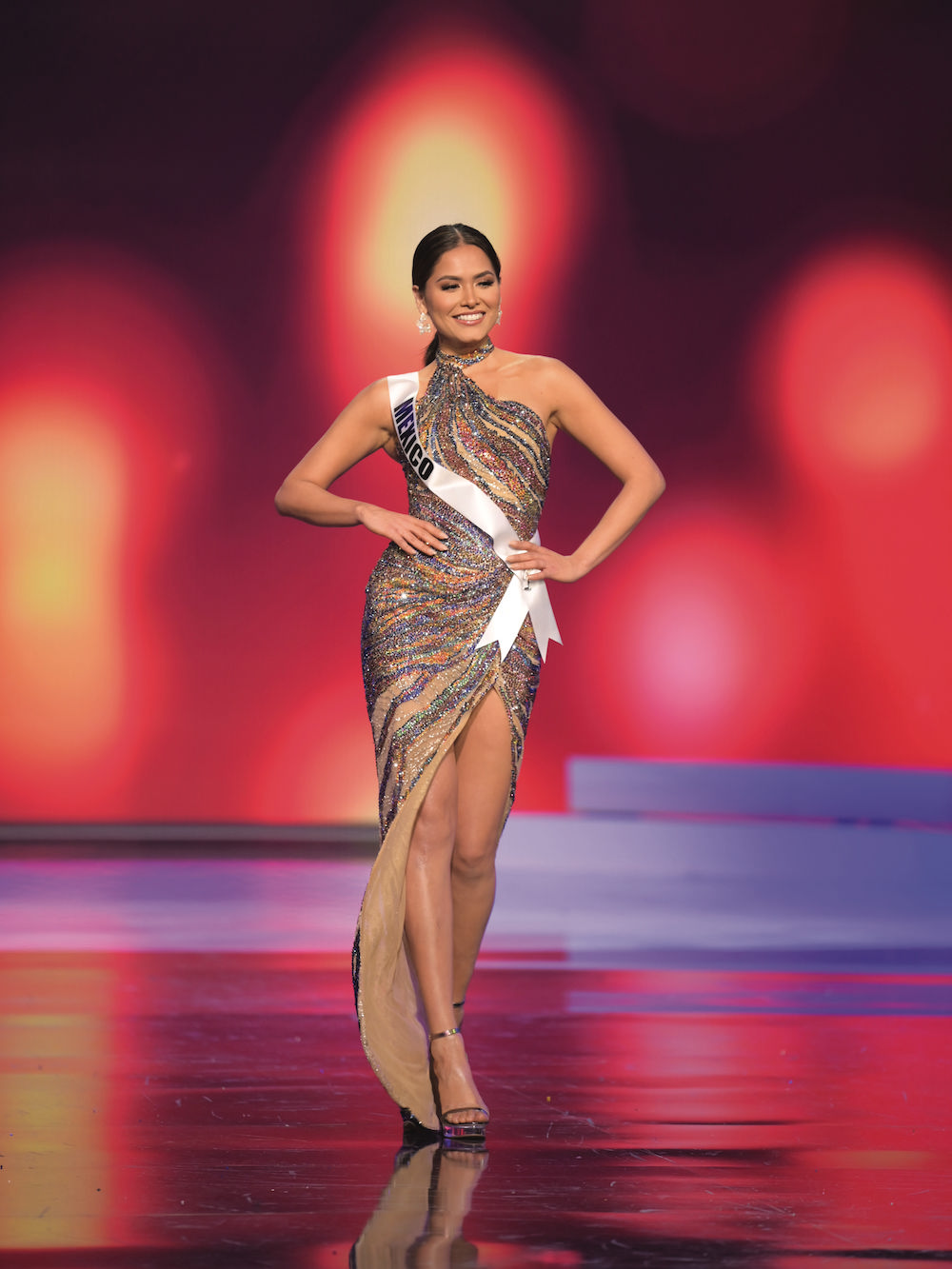 Tracy Nguyen / Miss Universe Organization
VN: How do you stay positive?
AM: I remind myself every day of my amazing job and the special job I have as Miss Universe and a person of all people trying to make a difference in a way that keeps me moving forward and supported. When I'm very tired, when I've been working non-stop and don't have a weekend to just have a good rest, I can start to complain a little. But I always remind myself that I am living my dream. And I try to maintain a balance so that everything is not about work.
VN: What kind of movements do you hope to see in terms of creating a compassionate world?
AM: I hope governments and health agencies start accepting that we don't need animal products, [that we have] plant-based products. I know it's hard, but it's achievable. And I know it's asking a lot, but I wish that in the future, the big supermarkets go all-vegetarian.
VN: What was your relationship with animals growing up?
AM: Growing up, my family had a farm. If the chicken, egg or meat I eat comes from the farm, I will not eat it. If I meet cows or chickens, I will not eat them. I refused because I wanted to know where they came from. Later, when I grew up, I started to ignore it and stopped thinking about animals. That's why I feel that even though my life led me to eventually become a vegetarian, because in the beginning, I was born.
VN: And what kind of foods do you grow up eating?
AM: I will eat all kinds of food. Tacos — you know, I'm from Mexico so I'm used to loving tacos. I now make vegan tacos. Ceviche, which is very popular in my country; now I have a vegetarian recipe, too. All Mexican food-pozole, tamales, all of them are all my favorites. But my mom would always prepare lots of vegetables. I grew up eating veggies, so for me, it was a no brainer to make the changes.
VN: What is your favorite part about being vegan?
AM: Knowing that I am contributing to saving our world. I believe that this lifestyle is the best way to contribute to stopping climate change. It is a difficult job, but we should all do something about it.
For more interviews with vegan converts, read:
Why Tabitha Brown Didn't Lose Her Faith, Family, or Veganism
Joaquin Phoenix on Veganism, the Environment, and Social Justice
Korea's Debut Vegan Cookbook Is a Lesson in Collection